The BBC.co.uk reports on a study from the Columbia University Medical Center in New York:
Of 15,500 12 to 18-year-olds studied, those who went to bed after midnight were 24% more likely to have depression than those who went before 2200 [2 a.m.]. And those who slept fewer than five hours a night had a 71% higher risk of depression than those who slept eight hours, the journal Sleep reports.

As well as the higher risk of depression, those who were set a bedtime by their parents of after midnight were 20% more likely to think about suicide than those whose bedtime was 2200 [2 a.m.] or earlier. Those who had less than five hours sleep a night were thought to have a 48% higher risk of suicidal thoughts compared with those who had eight hours of sleep.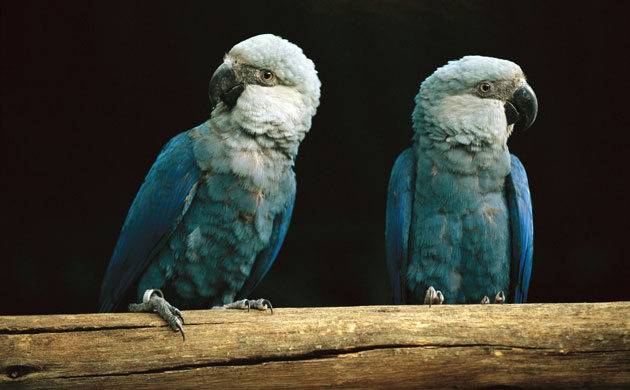 The Guardian highlights ten species that have not been spotted in their natural habitats or have been declared extinct by the International Union for the Conservation of Nature (IUCN) during the past decade. Shown is the Brazilian, Spix's Macaw, listed as critically endangered (possibly extinct), primarily as a result of trapping for trade and habitat loss.
Erica, at Biology-blog,com
Domesticated rice is an important supply of the world's rice. However, these strains are genetically static and cannot adapt to changing growing conditions. Traditional varieties, or landraces, of rice are genetically evolving and provide a pool of traits that can be tapped to improve crops worldwide.
The world's tallest building, Burj Khalifah or Khalifah Tower (828 meters or 2,717 ft), was unveiled in Dubai on Monday. Juan Cole captures the irony:
The Burj Khalifah is a symbol of everything wrong with our present moment. Rooted in a finance and real estate bubble, planned as big for the sake of bigness, opulent, now saved from disaster by Abu Dhabi's unsustainable oil revenues, it casts its shadow on a nation of guest workers, many impoverished and exploited. If global warming proceeds at the pace some climate scientists fear,  and the seas rise substantially, it may, ironically enough, be all that is visible of the low-lying United Arab Emirates a century from now.
Bradford Plumber, at truthout.org:
Yes, I've noticed it's bitterly cold across much of North America right now. Record lows, heavy snowfall, the works. Sadly, this doesn't prove global warming is fake. Long-term temperature trends do allow for short-term variation. A warming planet will still experience plenty of record lows. Via Joe Romm, here's a nice graph highlighting this point, from the National Center for Atmospheric Research:

Telegraph.co,uk:
The lizards go into a type of hibernation when the temperature drops below around 9 degrees C (48 F), all body functions but the heart switching off and blood flow cut to a minimum.

It means they lose their grip on branches and the creatures, which are common in the "sunshine state", plunge out of the trees.

"It's almost like they totally go to sleep. Generally speaking, if it warms up afterwards, they can recover," said Ron Magill of Miami Metrozoo.
From ecoworldly.com:
A report, citing figures obtained from the government, says Hong Kong's roadside air pollution reached life-threatening levels one in every eight days last year.

The air pollution index was recorded by the Environmental Protection Department. It said there were 44 days of "very high pollution" last year. That number is up from the 39 reported days in 2008 and the 13 days in 2005.

"Very high pollution" levels — with the air pollution index exceeding 100 — can significantly aggravate the symptoms of people with heart or respiratory illness, the department said.
For a society built largely around the automobile, a remarkable trend seems to be emerging in the U.S. — vehicle miles traveled (VMT) per capita has declined since 2007 even as fuel prices have dropped and/or stabilized. Adie Tomer at The New Republic thinks there's more behind the numbers than just an economic recession.
Rhett Butler at environment360:
Since the government's collapse after a coup last March, Madagascar's rainforests have been plundered for their precious wood and unique wildlife. But now there are a few encouraging signs, as officials promise a crackdown on illegal logging and ecotourists begin to return to the island.
John Vidal at the Guardian looks back at the past decade:
In 2006, Nicholas Stern, a former World Bank economist at the UK Treasury, reported that business as usual in a climate-changing world meant economic meltdown. Politicians, industry, bankers and the media jumped aboard the green express, seeing dollar signs in emerging carbon markets and new technologies.

In fact, several other important events defined the environmental decade. One was China, which in 2008 officially overtook the US as the world's biggest greenhouse gas emitter. Its dash for development matched the west's consumption boom, and sucked in forests, minerals and fuel from all over the world. But by mid-decade its scientists and politicians had seen the plunging water tables, choked on the coal pollution and realised that it could not continue. China now leads the world in rolling out technological solutions.

Over the decade the world's population grew from just over 6.1 billion to about 6.9 billion. That increase is equivalent to nearly 12 new Britains, or three new Americas, or a new Africa; or almost exactly the number of people alive in 1750. The majority were born in the poorest countries, off the west's radar, but it's clear that population and climate will define the centuries ahead…